Covid-19 / Coronavirus Policies

REVISED 5/2/2020
Revised 4/22/2020
Steve Moody's Entertainment Connection's COVID-19/Coronavirus Policy extends to "social gatherings" scheduled within the national and state social distancing guidelines. Recommendations of "no gatherings" currently extend to events through Early June, 2020. This date may be extended or terminated based on the guidance of President Donald Trump, the Center for Disease Control and Maryland / Delaware State(s) (see links below).
As you can imagine, we're postponing a mass of weddings and events at this time. We know this pandemic is tough on you as well and we want to express our sincerest empathy for the stress and difficulty you may be experiencing. Therefore, our goal is to be as accommodating as possible while protecting our sustainability as a small family owned and operated business.
Lori and I were actually forced to postpone our own wedding, due to unforeseen circumstances years ago, and so have a genuine sense of empathy for all of our couples that have been put in this situation. We clearly remember the additional stress and tears involved.
Clients Affected Due To "CURRENT" RESTRICTIONS (through June, 2020 in most areas with Beaches being unique):
At this time, we are following official government guidelines along with other wedding professionals in our network… and working with the couples who are immediately affected through the end of May. We've made the process extremely easy for ALL of our currently affected clients… and will do the same for you… if future restrictions from state or federal sources force your wedding to postpone.
Clients Possibly Affected Due To POSSIBLE "FUTURE" RESTRICTIONS (past June, 2020):
Again, as this all continues to unfold and new guidelines are released/terminated we will continue to reassess. For example, when/if local or national government releases new guidelines that will affect the month of June… we will begin working with the next group of clients that would affected (and each month on and on if necessary).

SMEC "POSTPONEMENT" Policy
As none of us have ever been through anything quite like this before, we'll continue to reassess and adjust as the daily scenarios unfold. Please have peace of mind knowing that we ARE WORKING diligently with each couple that is forced to postpone due to government guidelines/restrictions. As postponements are being forced on our clients (and not being made by their own choice) there will be no additional fees added for rescheduling their wedding date to an "equal value" date in the future. Changes in pricing would occur if choosing to move to a "holiday weekend" or moving from a "non-prime" date in the "off season" to a "prime date" in "peak season" etc…

For any clients choosing to "postpone prior to and CDC & government guidelines/restrictions that would alter their original event date"…. there will be a re-booking fee of $200.00 – HOWEVER, if CDC & government guidelines eventually change and cover your original date, this re-booking fee will be removed from your final balance.  This Re-booking fee of $200.00 must be paid BEFORE the date is changed in our system.

SMEC "CANCELLATION" Policy
We have asked all of our couples to keep in mind, that there is a specific difference between Postponement and total "Cancellation". Current restrictions are forcing clients to postpone their events in our immediate future. However, the government is not forcing anyone to "cancel". Total cancellation, rather than postponement would be a personal choice of the client. Therefore, total cancellation would result in the terms agreed to in our contact.  Our cancellation policy is found on the second page of each contract… each client has additionally signed that specific portion of our agreement stating that they have read, understood and fully agree to the terms of cancellation, so that there would be no issues or disagreements in the future on the policy.
Again, our goal is to be as accommodating as possible to all of our couples, while still protecting our sustainability as a small family owned and operated business. So many other small businesses have been forced to close due to this pandemic.  Our job for the past 30 + years  has always been to bring the smiles, laughs, and memories to amazing celebrations. So, as you might imagine, the topics of postponements and cancellations…. and the emotions that come with them are certainly not what we are all about. 
We thank you for understanding and for working with us to find the most viable solution for all parties, should you be forced to make this tough decision to postpone…. Just imagine how OFF THE CHARTS your event will be when we all get out of quarantine! Cheers to better days ahead, we look forward to celebrating with you.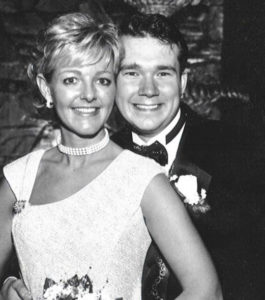 * Here's a shot from our wedding in 2003…just  to show you that you are still going to be ALL SMILES on your wedding day, whether you are forced to postpone or not.  On the actual day of our wedding…we didn't have a single thought about the fact that we had been forced to switch dates.  We enjoyed every single second of being with our closest family members and friends….and you will too.
GUIDELINE RESOURCES:
Safety Tips For Your Wedding (post Covid-19)
Maryland – Governor Larry Hogan:
Information, Guidelines and Resources on Covid-19
Delaware – Governor John Carney:

Information, Guidelines and Resources on Covid-19
U.S. Government / President Donald Trump:
Center for Disease Control:
We're In This Together.  United We Stand!