From The 2011 Bridal Season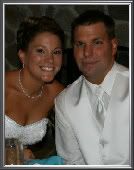 Jen & Matt Kenney - 9/24/11 - Silver Swan Bayside - Stevensville, MD
"Steve was absolutely FABULOUS!! Start to finish he was simply the best. The planning stages, multiple phone calls and emails to touch base to the event, he was flawless. By far my favorite vendor of our wedding!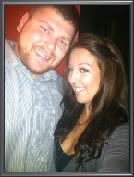 Stephanie & Owen Wesstrom - 9/9/11- Chesapeake Bay Beach Club - Stevensville, MD
"Steve was fantastic! He was recommended to us by our photographer as her favorite DJ to work weddings with. He had everyone engaged in dancing and fun the whole night. Our guests loved him, some asking for his contact info to hire him in the future. I would recommend him to anyone!!! The on-line planning form was super convenient and easy to use. Such a nice guy also!"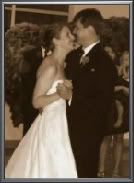 Melissa & Greg Miller - 9/3/11 - AnnMarie Gardens - Solomons, MD
"Steve was the DJ for our 9/3/11 wedding in Southern Maryland, and I am not exaggerating when I say hiring him was one of the best wedding decisions I made. I feel that with weddings, the DJ can really make or break the mood of the reception, and Steve is energetic, enthusiastic, friendly, and funny. He's extremely professional, if you watch some of the video clips on his site, that's what Steve looks like, he shows up looking sharp! And flexibility, Steve is the best. I think we challenged that! We had a lot of pre-wedding nightmares between Hurricane Irene causing some pretty serious damage, and worse, my father being very sick. We didn't know until the day of if my dad would be at the wedding and even then it changed multiple times. Steve rolled with the punches right along with us, working without any sort of finalized schedule, because we certainly didn't have one! But from a guest's perspective, any problems we might have been experiencing in the background, unless you were "in the know" it didn't show. The reception went so smoothly, no one could tell how much stress I had been under, and I really think that is all because of Steve, because he is the master of ceremonies. He's experienced, organized, and thoughtful.

Steve gets everyone dancing, and I mean everyone! I find at a lot of weddings you have a pretty big divide in guests,the family who are typically older and the friends who are younger, and usually you find only half on the dance floor. Not the case at our wedding! Steve got everyone on the dance floor for a couple of large group dances so that the photographer was able to get pics of everyone dancing and having a great time. And he really mixed up the music to please everyone. He took requests. I was able to pick a must play list, a do not play list, and songs we like that he could work off as part of the planning process. It was a blast!

There are a lot of things I hear from guests post-wedding and only a few things that you hear back from everyone, and one of the most talked-about is Steve. Everyone loved him. I had so many people come up to me and tell me that the DJ was fantastic, where did you find him, he's amazing…and I agree! If I were having another Maryland event, I would hire Steve in a heartbeat."


Sara & Russell Thomas - 9/3/11 - Private Residence - Stevensville, MD
"Steve Moody (Entertainment Connection) did an amazing job at our reception. The young woman (Becca) who was the MC was amazing! She knew the balance of getting involved with the crowd and then just letting us dance. The young man who was the DJ (James) played an amazing array of songs for our more younger than older crowd. THey were awesome taking requests as well. And they even stayed for an extra 2 hours when we didn't want the dancing to stop!"

Sarah and Bobby Merrill - 8/19/11 - Silver Swan Bayside - Stevensville, MD
"We interviewed several DJ's and found Steve Moody, you could tell he was going to be good from the beginning with his resume and website. Our wedding site staff highly recommended Steve Moody as well. He was able to mic up our officiate and our guests commented they could actually hear the ceremony. He played music that was well received and was an excellent MC introducing wedding party speeches etc. Overall ourselves and our guests had nothing to say but great things about Steve Moody. We added an extra half hour to our wedding during the reception and he was flexible and was able to stay and keep the party going.

Also we are from Virginia and our wedding was in Maryland so Steve Moody did an excellent job communicating with us long distance over the phone and emails, he was always easy to get in contact with."


Ashley and Daniel Vance -8/6/11 - Hyatt - Cambridge, MD
"Steve Moody is absolutely AMAZING! We were so completely happy with the services he provided for our wedding! He is incredibly personable and makes you very comfortable before and during your wedding. He always let us know what was going to be happening during the reception which was very helpful and much appreciated! We had 150 guests at our wedding and he had every single person out on the dance floor! Even my 87 year old grandparents were dancing! He made our reception the best one I have ever been to! We have already recommended Steve to every person we know getting married and will continue to recommend him! You will not be disappointed by the service you receive!"

Robyn Gross - Mother Of The Bride - 8/5/11 - Ceresville Mansion, Frederick, MD
"Steve Moody did an absolutely fantastic job at my daughter's wedding. He is such a nice, easy-going person and provided the utmost in service. Steve managed to get everyone on the dance floor almost immediately. He is a very good entertainer and it is very obvious that he loves what he does. I look forward to calling on Steve when my other daughter gets married!"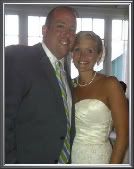 Nicole & Jim Zapf - 7/16/11 - The Oaks Waterfront Inn - Royal Oak, MD
"Steve Moody went above and beyond anything I ever expected. He did such an amazing job of making sure all of our 'special moments' (mother/son dance, speeches, cake cutting etc.) all happened on time, in perfect order and that everyone knew where to be. Most importantly he was able to get EVERYONE on our dance floor - we are getting nonstop messages from our guests about what a blast they had! Steve was extremely organized from our first meeting and did exactly what we asked of him and more. I can not express how appreciative I am of how perfect you made our night! thank you!"

Rob and Jessica Thompson - 6/25/11 - Brittland Estates - Chestertown, MD
"We can't imagine a better DJ. His ability to work the crowd, both with music and as the MC were outstanding. All of our wedding guests were out on the dance floor and Steve was flexible enough to stay with us an extra hour when we realized that everyone was still up and dancing! He was a pleasure to work with through the entire process and we would recommend Steve Moody to everyone!"

Joy and Clint Crossley, Romancoke on the Bay, 6/18/2011
"Booking Steve Moody for our wedding reception was one of the first things we did after getting engaged. We didn't know what caterer we wanted, what we wanted our cake to look like, or what flowers we wanted to decorate with—but we did know that we DEFINITELY wanted Steve as our DJ.

Steve did an amazing job! I know you may look at all of the 5 star ratings he and his team have received and go "Are they really that good?"—Well, let me tell you without a doubt that they ARE! If we could give them 10 stars, we would!

Steve and his team made it so easy to create our playlist and to plan out exactly how we wanted our ceremony and reception to go. We chose to have Steve play music from his system for our ceremony, as well as our reception, and it went perfectly! We had my two little nephews say grace before the meal and Steve was so good about making them feel at ease, and he even helped them along when they got a little bit of stage fright.

The music flowed wonderfully, and honestly, the dance floor was packed full of happy guests for the entire reception. Steve knows exactly how to read the mood of the crowd, and knows how to keep the party going!

Steve wasn't just our DJ, he was our friend. He was there for us through the planning and execution of our event, and always kept us informed about what was coming up next and was super-flexible, even with some of our last minute schedule changes and additional song requests. We absolutely recommend Steve and his team—they are professionals of the highest caliber, and they will make your event unforgettable!"

Veronica & Kevin Beck 6/17/11 - Silver Swan Bayside in Stevensville, MD
"Our DJ, Jimmy, from Steve Moody's Entertainment Connection was awesome! He was our DJ for our wedding on June 17th, 2011 on Kent Island in MD. He had all the guests that love to dance up there all night, including myself!…and the kids had the best time!!!! Thanks so much to Steve and Jimmy for an amazing event and for the best wedding my guests have ever been to!!!!"

Megan & Hunt Stover - 6/11/11 - The Fountains - Salisbury, MD
"I had always heard how great he was but we finally got to see it for ourselves. EVERYONE commented on how great the DJ was and made the night. He was always there and helpful, kept guest involved and had the nightly activities organized and flowing. Would highly recommend, he's the best!"
FROM THE 2010 BRIDAL SEASON
Tina & Joe Bolly- 9/25/10 - Celebratins At the Bay - Pasadena, MD
Melinda & Jordan Marsh- 8/28/10 - Rockfield Manor- Belair, MD
Megan & Lee Diffenderfer - 8/14/10 - Admiarl Fell Inn - Baltimore, MD
Katie & Dan Haxton -7/31/10 -Queesntown Harbor Riverhouse - Queenstown, MD
Michelle & John Ciavarra - 7/24/10 - Matapeake Beach - Stevensville, MD
Laura & Chris Ewing- 7/17/10 - Silver Swan Bayside - Stevensville, MD
Kerin & Dave Hillery - 7/3/10 - Rehoboth Beach Country Club - Rehoboth Beach, DE
Megan & Brad Gouker - 6/5/10 - Beaver Creek Country Club - Western, MD
Megan & Bobby Stanton - 5/29/10 - Martin's Crosswinds - Greenbelt, MD
Erin & Tim Dabbs - 5/15/10 - Eastern Yacht Club - Essex, MD
Brynn & Christopher Parker - 5/15/10 - Long Green Gardens - Glen Arm, MD
Sarah & Shane West - 5/9/10 - Celebrations At The Bay- Pasadena, MD
Michelle & Doug Brownback - 5/8/10 - Silver Swan Bayside - Stevensville, MD
Kaila & Jacob Ward - 4/25/10 - The Oberod - Wilmington, DE
Jessica & Nick Durland - 4/24/10 - Overhills Mansion - Catonsville, MD
Chris & Melanie Lee - 4/23/10 - Celebrations At The Bay - Pasadena, MD
Michelle & Sean Chisholm - 4/10/10 - The Belvedere Hotel - Baltimore, MD
Jessica & Matthew Trout - 3/20/10 - Columbus Gardens - Baltimore, MD
Morgan & Ehren Hawks - 2/6/10 - Tidewater Inn - Easton, MD
To Read More Testimonials Please Visit Our Reviews Section on WeddingWire at:

www.WeddingWire.com